Have you ever visited a website searching for a particular page, but found that it was taking too long to get to where you wanted to be? Most of the time, this problem is generally encountered by larger businesses who are tasked with the management of more significantly sized websites. After all, the more products and services you have to offer, the more landing pages you'll probably be needing to accommodate for all your products and services you have to offer.
Now, if you're the owner of such a website, then you should keep in mind that ensuring the best possible user experience for visitors to your website is essential. If your visitors are finding it hard or particularly time-consuming to reach the page that they want, then this might actually work to drive them away from your site.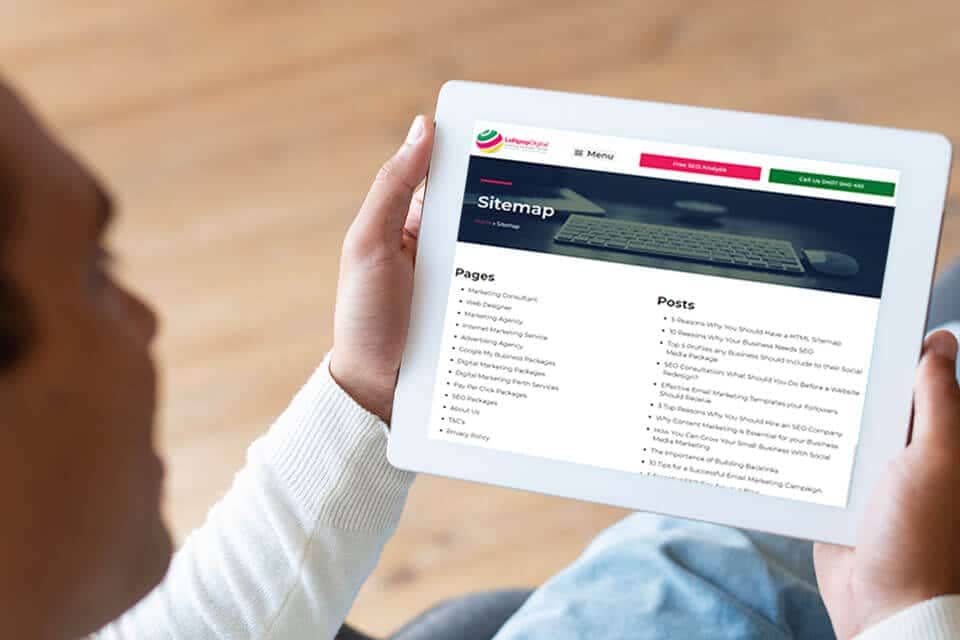 On the other hand, if you're hoping for a way to combat this problem and avoid losing customers from your site, then there is a solution worth considering. Let's take a moment to consider what they are:
Introducing Sitemaps – What Are They?
First off, it's important to note that there are two different types of sitemaps. A HTML sitemap is a list of pages on your website that help visitors to navigate their way to a certain page more easily, without having to go through drop down menus one by one in order to find what they need.
In contrast, an XML sitemap is designed to serve the website itself in terms of search engine optimisation, as opposed to the website visitors. It does this by listing out some of the most important webpages on the site, via URL. This list is subsequently crawled by search engines such as Google, who will then index the pages if they are perceived to be of a higher quality. Indexing plays a key role in determining which pages are going to be ranked where on search engine results pages. Needless to say, XML sitemaps can play a role in helping to get your website more exposure and increased traffic on the net.
In this article, the main focus is on HTML sitemaps. So, without further ado, let's delve into the key benefits of having such a feature on your website:
1. Organisation
Through having a HTML sitemap, you can make the process of finding pages so much easier for your website's visitors. A sitemap will organise all aspects of your website into one organised list, so that people can simply find and click the landing pages they wish to visit in an instant. Through allowing for clear navigation, you can ensure to retain visitors once they find themselves on your site.
2. Improved Website Rankings
Improving the user experience on your website can also help to improve your website's rankings on search engine results pages. If visitors are navigating through your website with ease, finding what they need, and most importantly, returning back, Google is going to be guaranteed to take notice. Moreover, it's sure to take all these factors into account when determining where your website will sit on the results page in response to search engine queries. Keep in mind that 89% of clicks go to websites listed on the first page of search engine results. That said, you'd want to make sure that your website is sitting up as high as it possibly can.
3. Interlinking
A HTML sitemap also provides you with the opportunity to increase internal linking on your webpages, which can also work to reap search engine optimisation benefits. Using internal links helps to establish hierarchy on your website, but can also help to spread link juice or link equity around websites. This is what works to spread value or authority from one website to another.
4. Specifies the Website's Purpose
In addition, HTML sitemaps can also provide as a pretty accurate indicator of what your website's all about. Due to the fact that the HTML sitemap is a content-based page, you can use SEO techniques to further enhance the value you gain from having this page as apart of your site.
5. Allows for Better Management
When you're having to audit certain areas of your website, a sitemap can prove as an incredibly beneficial tool. Not only does it show you the structure of your site, but also all the connections that exist within it. Henceforth, it allows you to oversee the maintenance of your website more accurately, and ensure that your website's hierarchy is correct.
At Lollipop Digital we're well-versed in all aspects of website design, including the creation of HTML sitemaps, along with XML sitemaps. To discover more about our services, be sure to get in touch with us today!